Playing guitar is a wonderful source of enjoyment! Budding guitarists of any age, from 6+ to 70+ have successfully begun learning guitar at Key To Music and younger guitarists are now ruling their school talent shows and playing in bands with school friends. Guitarists of all ages are having a lovely time playing at home and experiencing their favourite songs from the inside, and some learners are performing with bands. Some Key To Music alumni are even writing and releasing their own songs. If you're based in Edinburgh and wondering 'where can I find guitar lessons near me that will help me play the music I enjoy' we have some key points to help you explore different tuition formats and guitar teachers.
Enthusiasm beats talent
If you love to listen to music, all you enjoy going to see live music, and you wondered whether it would be enjoyable to learn how to play yourself, the best indication of your longer term success on guitar is your level of enthusiasm. We often meet people who worry whether they are "talented" enough. If you do the right things in the right order, success in learning and being able to play guitar is an inevitable consequence. Just like none of us expect to be able to get into a car and drive it safely without any instruction, but we also typically don't think that it requires special talent to obtain a driving license, the coordination and skills necessary to enjoy playing music on guitar can be broken down and made accessible to all new guitarists.
Why do learners quit?
There is a famous industry statistic that 90% of new guitarists quit playing within the first 12 months. Why is this? Up to a point it depends on the individual, but a very common reason is a feeling that you're not making the progress you want to make, becoming discouraged and demotivated, not feeling good, quitting. Put another way, you don't really know what result you should be expecting, you don't necessarily feel great about how things are going and the rate of your progress, and the process itself isn't sufficiently enjoyable to keep you engaged.
No one starts lessons with the intention of quitting!
That's why it's really important that your teacher breaks down all the steps in the process and actually trains you, and gives you the support you need to make the process of learning guitar enjoyable. The ideal teacher for you is going to have a clear understanding of what it is you would love to be able to do, and a way of breaking that result down into manageable steps so you can see that you're moving in the right direction. When you start out on guitar, it's often hard for you to know what is going to be within reach of your level. Very frequently, we find that learners are surprised to discover skills they thought would be out of reach for them take less time than they anticipated, when you build them up in the right way.
Ideally, the instructor that you select will also have experience helping others to learn to play the same type of music that you want to play. When you are receiving not just information, but getting trained in how to use and apply it, and being given fun ways and resources to play at home, your progress and your enjoyment are both increased.
Set yourself up for success
There is a very big difference between having a guitar teacher train you in the skill sets and vocabulary you will need to enjoy the area of music you want to play, and someone asking you "what would you like to do today?". The problem with this kind of tuition is that even though it might appear to be tailored to you, there is no strategy and there's not much structure or direction. What typically happens when tuition is arranged like this is that you may learn a few songs or pieces, and while you are playing them, there's enjoyment from that. But as soon as you stop playing them, you forget them – and because no overall musical skills were developed, you are almost back to square one. This is super discouraging, and a big reason why so many guitarists quit within the first year. !
Unlike the industry quitting statistic, In 2022 we had a very small percentage of learner guitarists stop their lessons, some because they were relocating. Most of our learners stick with their tuition long enough to be able to play, and many continue learning and improving and having fun with us for years, vastly exceeding the expectations they had when they started their tuition.
Learn guitar the right way
You can see from the graphic below that repertoire (including riffs, songs, pieces) is really one musical skill area. Any kind of tuition that only focuses on that is skipping some really important areas. It limits what you're able to enjoy on guitar if you only work in one area. It unlocks lifelong musical pleasure and confidence developing skills across all areas of music when it comes to guitar.
if you're wondering where you can find "Guitar Lessons near me" that are the right fit for you, don't hesitate to contact us for advice. We only enrol learners whom we are confident we can help, and the intro consultation is free. If we aren't the right match for you, we may know a teacher we can refer you to.
Key to Music instructors are trained with the Elite Guitar Teachers Inner Circle to stay up to date with the very best techniques for getting results for students, since 2013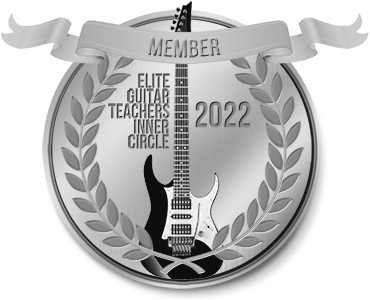 And here's a short video message from us about our teaching philosophy.